An Excel Spreadsheet has been created that has the required fields for the AL 41 Bulk Pay that is already in the correct File Layout needed to upload the file. Instructions are listed below to show you how to upload this file.
1. Download the AL 41 Bulk Paying Spreadsheet and save it to your hard drive on your computer.
2. Enter your a 41 information into the spreadsheet. More information about the various fields on the spreadsheet is available below. After you finish entering all your information, save your .xls file. NOTE: Please make sure that you have entered information in all the fields that are required. The required fields are noted in the column headings.
Field
Position Number

Field Name

Max
Size

Format

Status

FEIN

9

Text
Field
9 Digits-000123456

Required

Filing Period
[CCYYMMDD]

8

Text
Field

Required

Payment Amount
(2 decimal places)

13

Must Include Decimal

Required

IAT Y (Yes), N (No)

1

Text
Field

Required

Address

35

Text
Field

Required

City

33

Text
Field

Required

State

2

Text
Field

Required

Zip Code

5

Text
Field

Required

Zip Plus 4

4

Text
Field

Required

Payment Date [CCYYMMDD]

8

Text
Field

Required

Bank
Acct Type
C (Checking), S (Savings)

1

Text
Field

Required

Bank
Routing Number

9

Text
Field

Required

Bank
Acct Number

18

Text
Field

Required
3. Click the red button "Click Here To Export To Text File" to create your AL 41 file. A menu box will appear. Select a location where you want to save your file.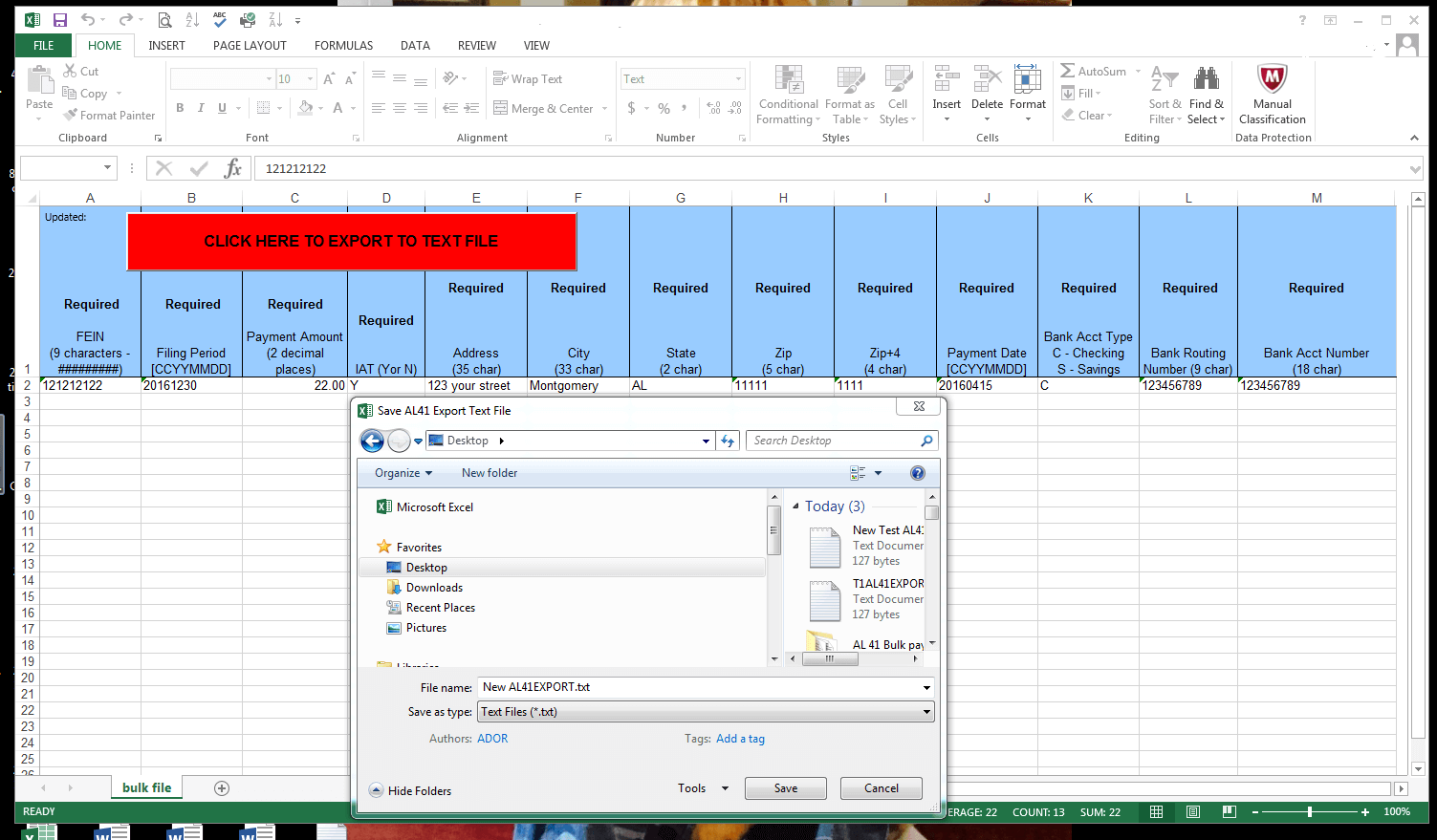 4. Please make a note of the name and location of your AL 41 file.


5. To upload your file, log on to My Alabama Taxes.
6. Select the Agent account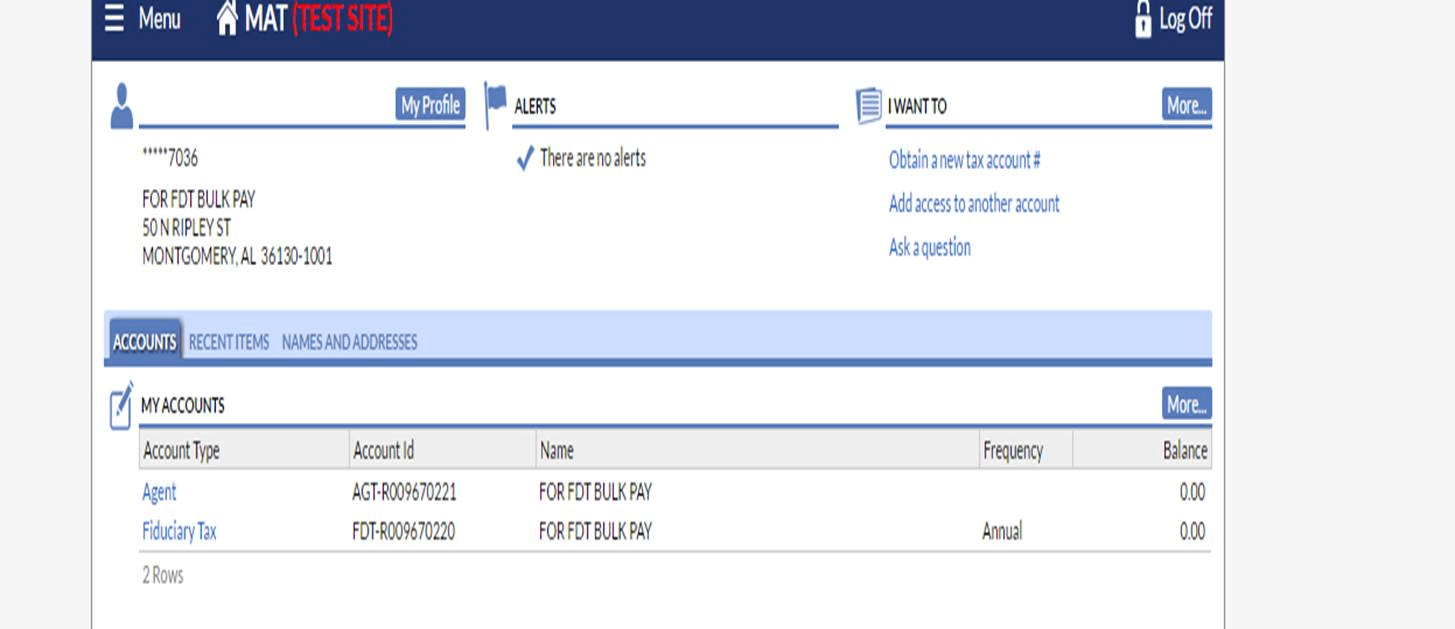 On the next page, select "Upload Bulk File" from the panel on the right.


Then select "Fiduciary Bulk Payment" from the menu on the next page.


7. On the Bulk AL 41 Upload page, click Attach File. Enter a Description of the file, Browse for the file to upload, then click Save. Note: Please make sure you are uploading the .txt file instead of your saved Excel (.xls) Spreadsheet. The system cannot process the file if it is saved as an Excel (.xls) worksheet.


8. To view the results of your file, click on the Valid AL 41 or Invalid AL 41 link. If the results are Valid, then click Submit to process your file. If Results are Partially Rejected with Valid and Invalid accounts, then you can Submit your file, but only Valid accounts will be processed.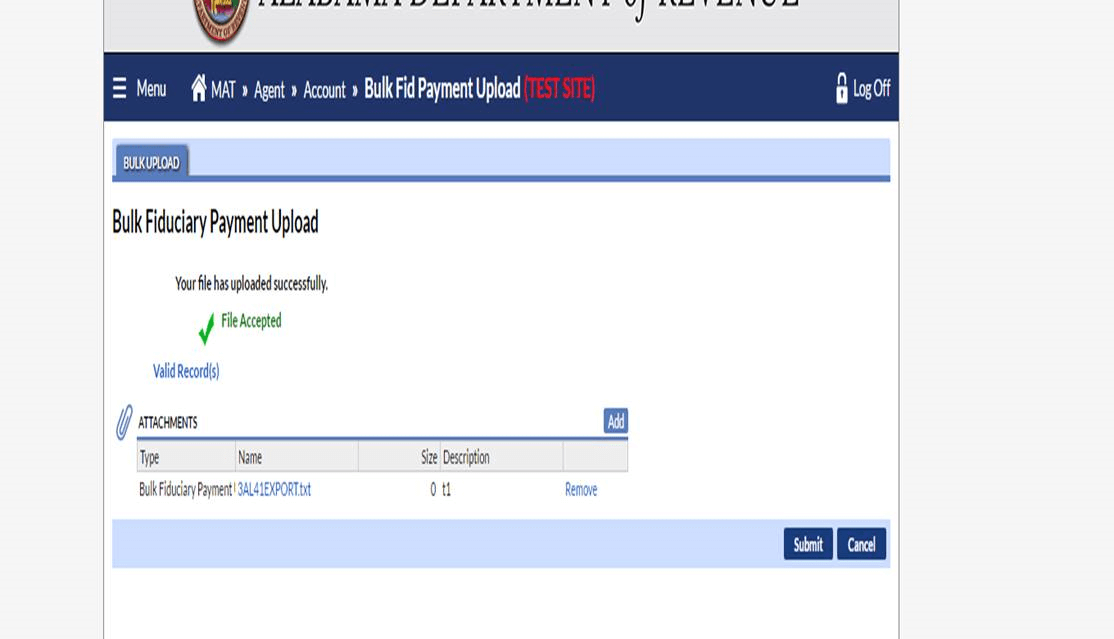 9. If the results are Invalid, then you must correct all errors and resubmit your file. Open your original Excel (.xls) version of your AL 41 Bulk Pay spreadsheet and make the required changes.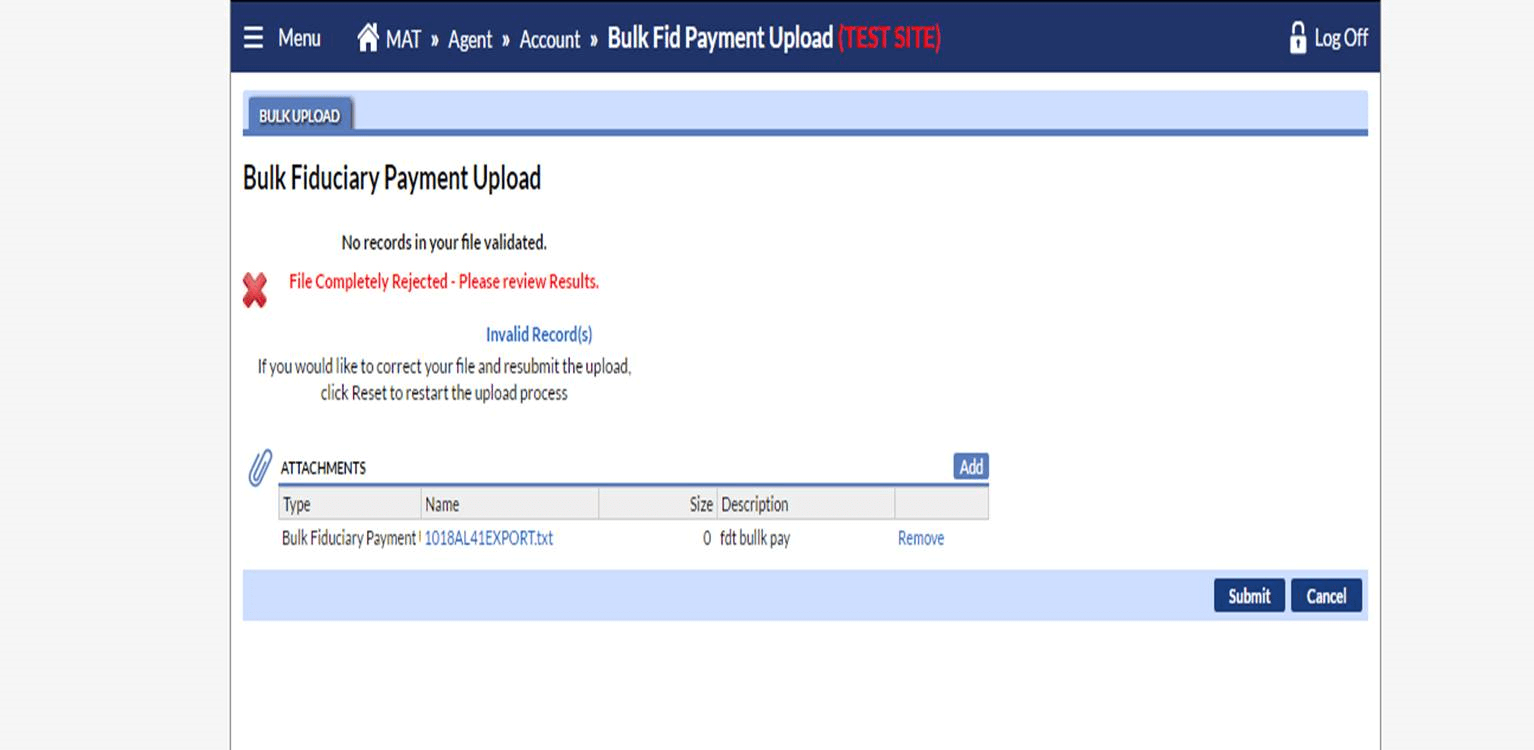 Click in the red area to create your new file. Follow the previous steps to upload your new AL 41 Bulk Pay.
10. You will receive a Request Number for your file. Once the accounts in the file have been processed, you will receive a message in the Message Tab with your Bulk Payer Confirmation and request number. Click the Bulk Payer Confirmation link to view the Tracking (confirmation) Number for each account processed.